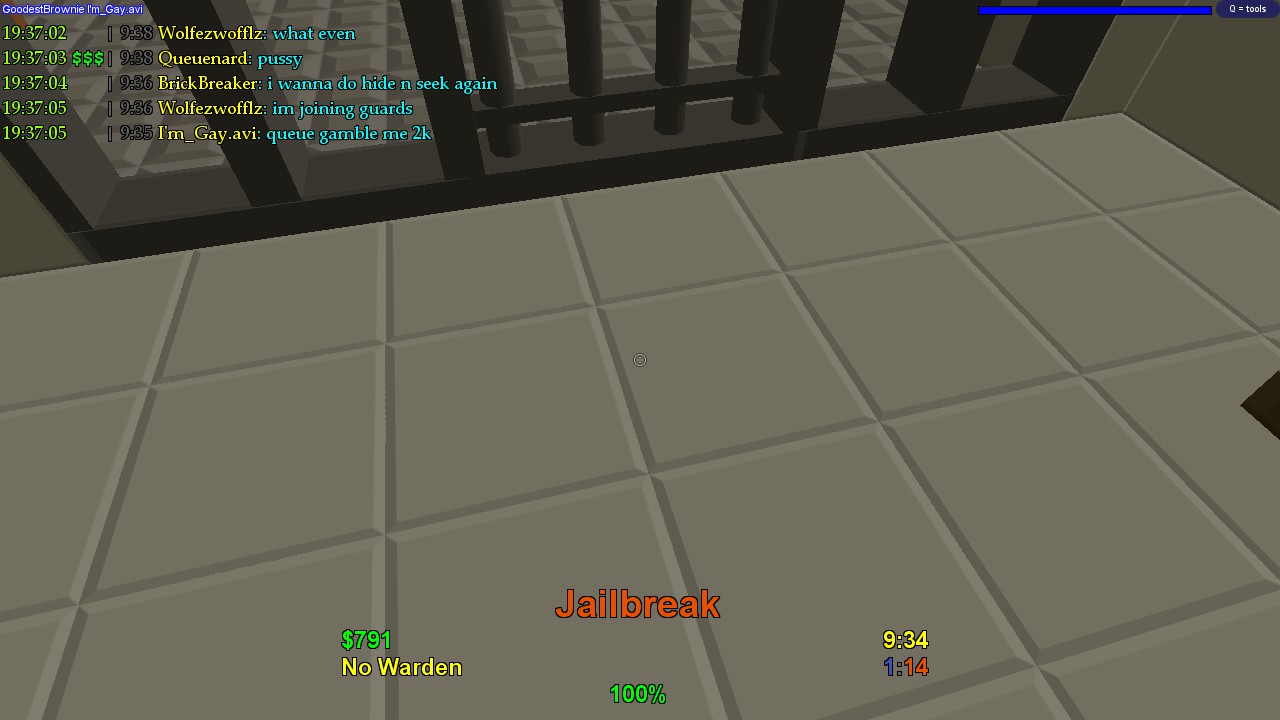 Notice the ratio on this picture: one guard to 14 prisoners, and the guard was too afraid to /warden because the round was a guaranteed prisoner victory.
I have seen similar (not to this magnitude, but still concerning) situations in my time playing Jailbreak. A guard balance system is desperately needed.
---
How would a guard balance system work?
Basically, I want a system that can quickly and automatically solve any crises where the guard to prisoner ratio is unbalanced way too much in the prisoners favor (say if there are 5 or more prisoners per guard) by filling up the guard team.
First, when the ratio of 5+ pris per guard is detected, there will be a warning. Nothing will happen until the round ends. Two things could possibly happen (the thing with more votes in this thread's poll will happen) at the end of the round.
---
1. Merit Choice
If the system is implemented in this way, there will be a script that checks everyone (in the server at the time)'s playtime. The script will ignore these demographics:
- Currently guardbanned people (includes people whose guardban ended 10 or less rounds before the autosort happens)
- Spectators
- maybe Wardenbanned people? (they can still manually join guards when there is a spot if they are ignored by the auto-sort script)
It will also put the following demographics in a higher priority:
- Prisoners who were recently guards
- Prisoners with extremely high playtime
Basically, anyone that has a high playtime and was a guard more recently will be automatically sorted into guards if there are 5 or more prisoners per guard, until the guard team is full.
Example: There is 1 guard and 6 prisoners.
- Bob with 666 hours and was guard 3 rounds ago
- Jane who was afk for ages and thus put in spectators
- Samuel who was guardbanned for 30 rounds
- Joe with 452 hours and was guard 9 rounds ago
- Beta with 500 hours and was un-guardbanned 4 rounds ago
- Fabian with 21 hours and was guard only yesterday.
Jane, Beta, and Samuel are completely out of the question. This leaves Bob, Joe, and Fabian. Given there are 6 prisoners total, there has to be one more guard. Since Bob was a guard most recently and has the most playtime, he is autosorted into guards. Now there are 5 prisoners and 2 guards (2.5 prisoners per guard), and the problem is solved.
---
2. Team Scramble
If the system is implemented in this way, there will be a team scramble as soon as the round ends. This scramble WILL reset the team scramble round timer (so if there were 14 rounds until the next scramble before the ratio-caused scramble, then it will reset, and there will be 20 rounds until the next scramble, not 13)
This post was last modified: 03-04-2017, 10:03 PM by The Hoff.